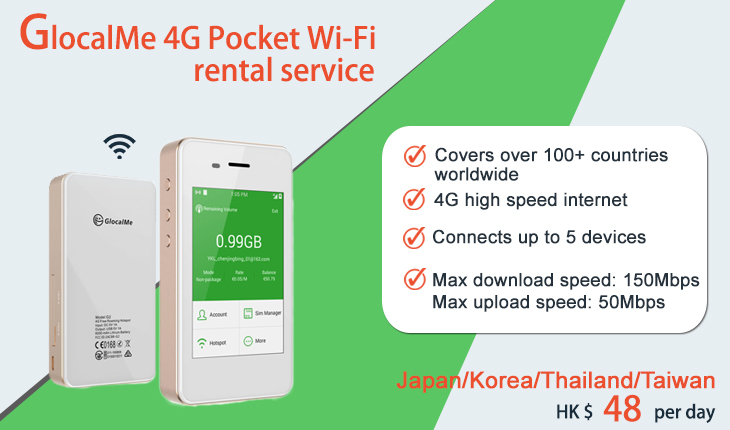 GlocalMe 4G Pocket Wifi
Powered by Cloud Sim technology, GlocalMe G2 is the world's first pocket WiFi without local SIM cards to connect in over 108 countries, allowing travellers to access the Internet at any point of their travels without local SIM cards and roaming charges.
User can connect up to 5 Wi-Fi enabled devices to the Internet with the GlocalMe G2 and get download/upload speeds up to 10 times faster than that of 3G. In addition, GlocalMe G2 can be used as a traditional unlocked Wi-Fi hotspot with the insertion of local SIMs to receive local 3G/4G network signals. GlocalMe keeps you online wherever you are without roaming charges.

GlocalMe 4G Pocket Wifi Rental Service

Per day(HK$)

Japan/Korea/Thailand/Taiwan

$48

Europe/United States/China/Hong Kong/Vietnam/Singapore/India/Australia

$60

Ireland/Canada/New Zealand/Argentina/Cyprus/Estonia/Bulgaria/Nigeria

$80
Specifications:
- Connectivity:
>WCDMA Band 1/2/5/8LTE-FDD Band 1/3/5/7/8/17/20
>LTE-TDD Band 39/40/41GSM 850/900/1800/1900MHz
- Upload speed:4G:50 Mbps,Download speed,4G:150 Mbps
- Port/Jack:
>Standard USB/Micro USB
>Input:DC 5V-1A Output:DC 5V-1A
- Power Bank : 6,000 mAh
- Dimensions: 117 x 63.8 x 20.9mm, Weight :224g(Net),353g(Total)
Terms & Conditions:
- Above prices are calculated in Hong Kong dollars.
- For all countries, if data usage exceeds 500 MB per day, the speed will be reduced to 128 Kbps.
- Pocket Wi-Fi supports up to 5 devices simultaneously.
- Download speed:4G:150 Mbps
- Upload speed:4G:50 Mbps
- Pocket Wi-Fi router can be used for 15 hours after fully charged.
- Please contact Golden Promise Travel Agency Co for the prices for countires that are not listed above.
- $1000 deposit/down payment will be refunded to the customer upon return of all
equipment to the Company in good condition at the end of the contract period.
- Customers must not turn on the pocket WiFi outside of the designated service
area/agreed service area in order to avoid any roaming charges.
- Different countries have their unique service quality, coverage ability or characteristic,
the company cannot guarantee the consistency and stability of the pocket WiFi .
- Please collect the Pocket Wi-Fi at our Tsim Sha Tsui office.
- Please reserve your Pocket Wi-Fi 3 working days in advanced.
- Above information is for reference only. No prior notice if there are any changes.
- Golden Promise Travel Agency Co. reserves the right at any time to discontinue or change this offer.
- In case of dispute, the decision of Golden Promise Travel Agency Co. shall be final.

Enquiry or Reservation

www.goldenpromise.com.hk
Tel: (852) 2739 4296 Fax: (852) 2369 4287 Email:

[email protected]


RM 916, 9/F, Tower A, New Mandarin Plaza, 14 Science Museum Road, Tsim Sha Tsui East, Kowloon
Base on the Unsolicited Electronic Messages Ordinance, if you DO NOT want to receive any promotion email messages from us in the future, please click here for DELETION. If you would like to receive our promotion e-mail messages in future, you do not need to reply us.